When it comes to eyebrow grooming, precision is key. Every hair matters, and that's why you need the ultimate weapon in your beauty arsenal –
LED Eyebrow Tweezers
. These innovative tweezers not only offer precise hair removal but also feature built-in LED lights to illuminate your brows, ensuring no stray hair goes unnoticed. Get ready to elevate your brow game to a whole new level with these expert grooming tools!
Achieving perfectly shaped and well-groomed eyebrows has never been easier. With LED Eyebrow Tweezers, you no longer have to worry about poor lighting conditions that may lead to inaccurate and uneven plucking. The built-in LED lights provide bright illumination directly to the area being tweezed, giving you clear visibility of even the tiniest of hairs. Say goodbye to guesswork and hello to perfectly arched brows!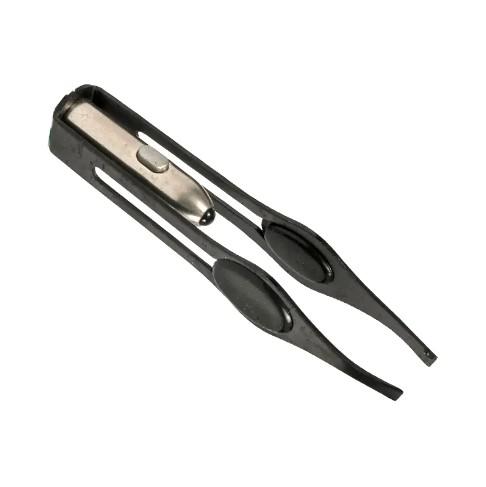 The design of LED Eyebrow Tweezers is sleek and ergonomic, ensuring a comfortable grip and precise control. The stainless steel slanted tips offer excellent grip and are perfectly aligned to grasp hair with utmost accuracy. The LED lights are strategically placed, illuminating the area being tweezed without casting any shadows, allowing you to easily spot and remove unwanted hairs. Whether you're shaping your brows or maintaining their neatness, these tweezers are your go-to tool for expert grooming.
Not only do these tweezers enhance visibility, but they also save you time and effort. The LED lights eliminate the need for additional lighting sources, making them ideal for use anywhere at any time. Whether you're in your bathroom, on the go, or traveling, these portable tweezers will always provide you with the perfect light to groom with precision. Additionally, the LED lights are energy-efficient, ensuring long-lasting performance without the need for frequent battery changes.
LED Eyebrow Tweezers are suitable for both professionals and beginners alike. If you're a novice in brow grooming, these tweezers will guide you every step of the way. The built-in lights act as your personal assistant, making sure you don't miss a single hair. For experienced experts, these tweezers offer the next level of precision, allowing you to achieve the most intricate and flawless brow shapes.
But LED Eyebrow Tweezers are not just for eyebrows! Their versatile design makes them perfect for various other grooming tasks such as removing unwanted facial hair, splinters, and ingrown hairs. Their LED lights ensure you can see every tiny detail and remove even the most stubborn hairs with ease.
Say goodbye to uneven and poorly shaped brows, and embrace the power of LED Eyebrow Tweezers. Illuminate your beauty routine, and experience the joy of flawlessly groomed eyebrows. So why settle for less when you can achieve perfect brows effortlessly? Upgrade your grooming tools today and light up your brow game with LED Eyebrow Tweezers for expert grooming!