In the realm of beauty and self-care, achieving the perfect eyebrows has become an art form in its own right. The eyebrows frame the face, adding character and definition, and a well-groomed pair can elevate your entire look. However, mastering the art of eyebrow grooming can be challenging, especially in dimly lit spaces or with conventional tweezers. Enter LED-enhanced tweezers, the beauty industry's latest game-changer. These innovative tools are here to illuminate your path to brow perfection, making your beauty routine not only easier but also more precise and enjoyable.
The Illuminated Advantage
LED-enhanced tweezers take the concept of precision to a whole new level. At their core, these tweezers are equipped with tiny, energy-efficient LED lights that are strategically positioned along the tweezing edges. The purpose? To provide focused and bright illumination precisely where you need it – your eyebrows. This targeted lighting eliminates the need for cumbersome desk lamps or awkward contortions in front of a mirror. With LED-enhanced tweezers, you can finally see every stray hair with absolute clarity.
The advantages of this innovative illumination are multifold. Not only does it reveal even the tiniest, barely noticeable hairs, but it also prevents the dreaded over-plucking mishaps that can easily occur in poor lighting conditions. With improved visibility, the chances of painful accidents are minimized, reducing the time spent in front of the mirror and giving you the confidence to groom with precision.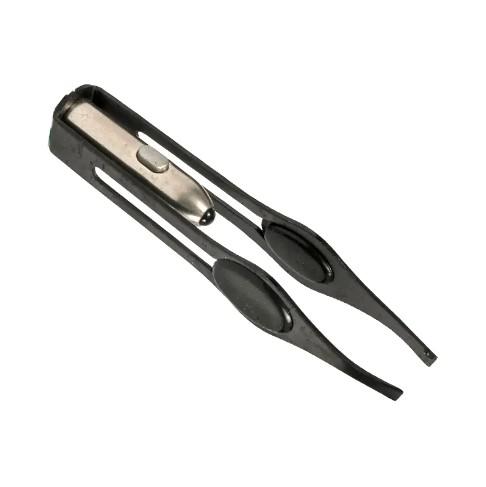 Ergonomic Design for Comfort
Beyond their illuminated brilliance, LED-enhanced tweezers are designed with your comfort in mind. They fit comfortably in your hand and offer a secure grip, reducing hand fatigue during extended grooming sessions. The LED lights are seamlessly integrated, adding minimal weight to the tweezers while maximizing their functionality. This harmonious design ensures that your tweezing experience is not only efficient but also comfortable, allowing you to focus on refining your brows without any unnecessary strain.
Versatile and Travel-Friendly
LED-enhanced tweezers are versatile companions for your beauty routine. Whether you're preparing for a day at the office or a night out on the town, these tweezers will quickly become a staple in your beauty arsenal. The LED illumination remains consistent, regardless of the surrounding lighting conditions, ensuring that you achieve flawless results whether you're in a well-lit room or a dimly lit environment. Moreover, their compact size makes them travel-friendly, ensuring your brow game stays on point even when you're on the go.
Ideal for Beginners
If you're new to the world of brow grooming, LED-enhanced tweezers offer a gentle learning curve. The enhanced visibility they provide acts as a guiding light for beginners, helping them understand the natural arch of their brows and gradually master the art of shaping. This makes at-home grooming a stress-free experience, reducing the need for frequent salon visits and putting you in control of your own beauty destiny.
Efficiency in Every Precise Pluck
In a world where time is of the essence, LED-enhanced tweezers save the day. The efficiency they bring to your grooming routine allows you to achieve salon-worthy results in the comfort of your own home. These tweezers have not only transformed the way we approach brow grooming but have also raised our expectations for beauty tools, demonstrating how technology can enhance even the most time-honored grooming rituals.
In conclusion, LED-enhanced tweezers are the perfect fusion of precision and innovation. Their targeted LED lighting, ergonomic design, versatility, and beginner-friendly nature have elevated brow grooming to new heights. As beauty standards continue to evolve, these tweezers stand as a testament to how technology can enhance even the most time-honored grooming rituals. Illuminate your beauty routine and take your brow game to the next level with LED-enhanced tweezers – the key to precision and perfection.